Article written by : Home Improvment – Articles, Ideas and News
Below are a few gardeining books that I have come accross my research as being some of the best in the past couple of years.

1) Mentors in the Garden of Life' by Colleen Plimpton
Price $16.95
It is a series of short stories about family, friends, life, plants, and how they all tie together over the course of a lifetime. Really, it's soulful and delicious.
Here are a couple of reviews:
Review #1:
"This delightful book is not just for gardeners! While I loved the lessons learned from Colleen's growing love of growing plants, this book was a heartwarming and intimate sharing of the life lessons we learn from the people in our lives from childhood through our adult years. The individual stories which make up each chapter are honest and expertly written. I feel like I have made new friends. And of course the gardening expertise flows out of each page. Now I have a life goal to walk in Colleen's garden. "
Review #2:
"Colleen's book was wonderful to read. Delightful. Entertaining. Informative. Portions of it prompted me to recall my growing up years, reminding me of who my own "mentors" were and how their influence impacted my future. The gardening facts and descriptions made me want to start a "new" garden today. I have always had flower "beds" wherever I've lived, which included plants & seedlings passed on to me by relatives and friends. After reading Colleen's beautiful, descriptive style of writing, my "gardens" can now take on a "whole nother meaning". I highly recommend reading it. It's a book that leaves you wanting more from its author. "
2) "Thoughtful Gardening" by Robin Lane Fox
Price: $29.95
It offers short essays, which are interesting, informative, and based on 40 years of gardening, writing, and traveling to gardens around the world.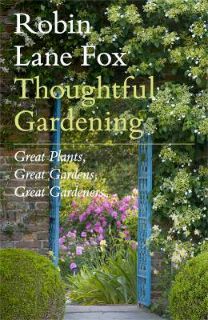 Here is a review:
"The author is an academic historian whose other lifelong passion is gardening. Drawing on his 40 years of experience writing a gardening column for London's Financial Times, his travels to gardens around the world, and his own decades of practical gardening, Robin Lane Fox presents a series of essays on gardening and gardens, and he often expands into history, people, and political asides."